We create,
you communicate!
Call on professionals in a communication agency for the creation or redesign of your website.
UX/UI design: a unique experience!
Webmarketing : our expertise
SEO: Google's first position
SEO or Search Engine Optimization is one of the techniques implemented to put a website in good position. The goal of SEO of garage-loisirs-distribution.fr website is to get to the first page without the purchase of keywords.
Content marketing or Inbound marketing refers to the same term. Its objective is to attract Internet users to visit a website through relevant content such as auto-moto-scooter.com, and to convert them into customers.
Web design, also known as graphic design, consists of presenting information in the form of content appropriate to the web medium. The contents can be image, text and other forms of animation to make the users understand the message to be transmitted in a clear way.
A site thought in mobile first thinks the width of the page according to the size of the mobile screen; writes readable texts on the page of the screen; thinks the site in the height.
Your site must be optimized for mobile friendly. It was important and necessary to recommend an optimal navigation on mobile for the website that it must look good on all mobile devices.
The first feature to implement for your omnichannel e-commerce is to adapt your site on a mobile. Indeed, customers consult your website anywhere and in your store. Your website must be adapted to the mobile.
Storytelling is a communication technique based on tales and stories.
Chatbots or chat robot is a new tool for instant conversation.
An influencer is a person who has a strong influence on Internet users to buy.
Marketing strategy: Video, a must!
Video is a must-have for attracting customers' attention and engaging them. Video is inevitable in your marketing strategy. For this year, the share of video occupies more than three quarters of the internet traffic. Future buyers look at videos on the internet before making a decision and committing. If you don't use video, you will be invisible.
Our skills at your service
To have a better website, the use of an intuitive ergonomic tool is essential. Your website must be efficient and bring satisfaction to the users.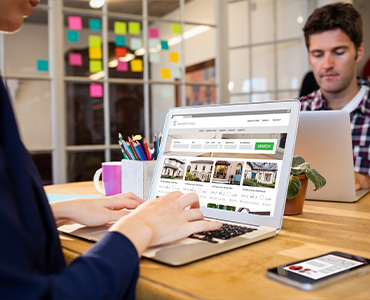 With just three clicks of the mouse, users can access the content they searched for on the website by following just three links from the home page.
OUR SECRETS FOR AN EFFICIENT WEBSITE
For an effective website, it is necessary to analyze your needs, use a professional website design so that your site can be SEO friendly.